September 30/2014
It's Saturday morning.
Your stomach churns, your guts twist up in knots, and thoughts of what's ahead pour into your mind. You stammer out of bed and screw up your courage, ready to put it all on the line.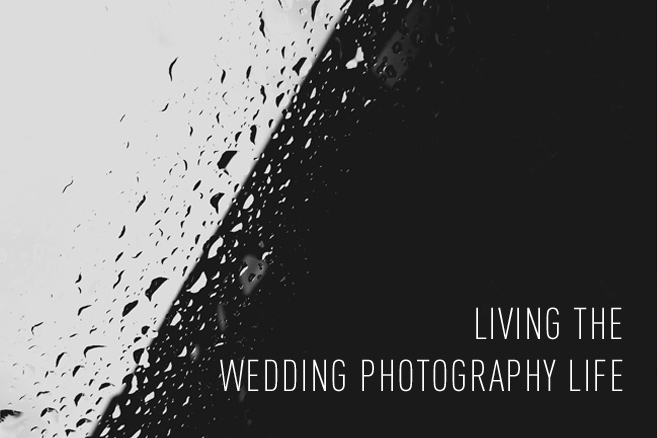 You've followed Accuweather all week, you've got Dark Sky loaded, and your bag pulls like a ton of bricks with more gear than Batman and more cards than Vegas, because you're ready to roll if the shit hits the fan, and you know what's coming down the pipes.
It's hard, it's bruising, it takes everything you've got.
And you surely do know what's coming, because you've cut out swaths of your life just to think about every single thing that could go wrong each step of the way. So much so, it sifts into your dreams and drifts into your head in the middle your days like a bolt from the blue. From the focus that won't hit to the camera that could die. From filling your card right as the bride steps into the aisle to a flash running out of juice as the first dance kicks into gear. And despite that, something new goes wrong. Every. Single. Time.
Aimee Mann said it right:
It's not what you thought
When you first began it
You got what you want
Now you can hardly stand it, though
By now you know
It's not going to stop
It's not going to stop
Your world spins in perpetual motion, steady and ready on the outside, at the edge of control within, and in every moment of the day and every second that passes by, you're forced to make the call. The information is a torrent, hitting your senses without a break. When's the kiss happening? Are the place cards in place? And how much darker can it possibly get? A mom tells you not to miss this, your gut tells you not to miss that, and no matter what you decide and where you point and shoot, there will always be more to think about, more to consider, and more you'll miss than you can possibly get.
It's true. It doesn't stop. But if you're in it and at it, you have to decide whether you're really going to do it, because there are only two ways out. Either quit early and cut your losses, or you make your way through to the other side. Just don't stand in the middle of the road, where traffic will plow you down.
And it's not just the shot that's on the line, but your reputation, your livelihood, and every ounce of integrity you have. And integrity is no exaggeration, because it can bleed out faster than you can ask a bridal party to jump in the air.
Who are you, what do you say, and where are going? There's nothing but nothing that won't define who you are, as you constantly search the depths of your soul. Are you going to play it safe? Are you going all out? There's every reason not to do anything and no reason not to do everything. It's all in your hands.
It's the middle of the road where you sell yourself short. The middle of the road, where you can't do more than fight to survive. And there's nothing wrong with survival, but you're built for more than taking the hits. When you find what you have to say, every moment is an opportunity, and every act is a chance for self-expression.
Every weekend you pit you against you against you in a match to the death, and only one person makes it out of the ring. It's a high wire act with an empty stomach, a full head, and a once in a lifetime day every single week, where only one missed shot can send you into a tailspin.
This is a world where everything's a pitch. Five tips for this. Ten ways to do that. A single secret to conquer them all. You'll learn how to spend more time avoiding work than doing it, which is the surest way never to get anything done, because the more you run, the more you feel the hurt, and the more you feel the hurt, the more you run. You create a cycle of detachment that exchanges the brilliance and clarity of the possible for a duller, more lifeless version of the now. Temptation will tell you to check your vision at the door for the promise of heaps of cash and unending ease, but muting your voice so you can just suck up the pain is too much to give. 
And it only gets harder when the week comes along. After 8 hours of standing and ten miles of walking, your feet are a wreck, your body is in shambles, and you still have the rest of your business to run. A slave to little, red notifications and emails received, you have blogs to follow, people to read, and the unending keep of your manicured digital front.
It's never what you thought. It's never what you'd hoped. Like love, reality is at its best and fullest when you take it for all that it is. It's at its worst, when you can only wish it were something else. It's never what anyone thinks, and that's the beauty of it all. Only when you feel the texture of your life for good and for bad do you see how far you can go.
You blow through a day and get nothing done. A week passes by, and you forget what took place. You clean out your gear and sync up your clocks. You sort, you tone, and Friday comes around. You sneak out for some drinks, but you know just what's in store. You pull out your phone and take a peek at the weather, and you brace yourself, so you can do it again.
Do it different. Do it fully. Dive right into the heart of it all, living and breathing every part of your life. Don't focus on making more and doing less. Don't think about just making it through. Steer into the skid, learn to love, and learn to find. Take problems out, leaving them down for the count, and don't look for the answers you need. Answers curtail your options and limit your channels. Ask better questions, instead. Questions explode the possible, making the static, alive. If you're chasing the dragon, the true high is never going to hit, but when you see the unlimited, you touch your purpose and feel your worth. Fun and fulfillment are the byproducts of a life fully lived. Live it all wholly and fully, and your Saturdays will never be the same.