Vendor meals.
Need I say more?
It even sounds insulting. Like you're some sort second class citizen.
"Oh, go down to the dungeon and eat with the slaves, will you? And in 5 minutes, as soon as you sit down and take your first bite, we'll spring a toast on you, and let the staff take away the scraps you were planning to gnaw on before you get back."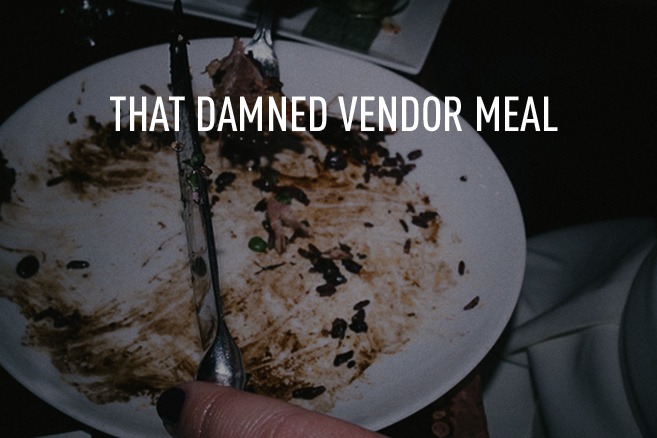 It seems like the better the place, the worse the meal.
I can't count how many times I've been sent to the back of some dodgy kitchen or dusty basement. My favorite is when the sour scent of surfaces wiped with old rags permeates the room meal.
And I admit it. It sucks.
But here's what's worse: Getting sucked into it.
So often, I see post after post about things like vendor meals, and what you're supposed to put in your contract and how you handle it and how you can make sure it doesn't happen.
What do you tell the couple? How do you word it? What about the venue?
And there's nothing wrong with it.
But there is.
Because you matter. Your time matters.
Because the catalog of really-annoying-shit-that-happens-when-you-offer-a-service is vast and unending, and they never really stop.
Maybe a stupid request by a planner.
Maybe a bride posting a cropped version of your image in Facebook.
There's always something, but you can't—absolutely cannot—let these things sap your energy and take your eye off the prize.
These are 15-dollar-an-hour tasks, and while solving one of them is no big deal, I've seen more than one business owner plummet down the slippery slope of low-value tasks.
You're better off just charging every client $40 more, bringing a bunch of nutrition bars for the wedding day, and having a nice meal with a friend the day after that you can actually savor, if it means it won't take you away from you.
Ask yourself: What do I want?
What do you really want to be? To do?
There are 100-dollar-an-hour tasks. Even a 1,000+. Solve these. Make them happen, and suddenly, the rest won't matter nearly as much.
It can be so tempting to find the perfect response to stick it to an obnoxious vendor or to dwell on all the small things.
Don't give in.
Direct your energy to learning about the craft of photography. To learning about the craft of business. Do the things that matter with a capital M.
We only have so many seconds in our lives. They're precious and valuable.
Don't give them away to circumstance.
Don't invest them in people who want to take it away.
Put it into the things that create the version of yourself you want to see.
Invest in the the version of yourself that knows your real potential and find the future no one else can see.
—Spencer Lum
P.S. I'm recording the talks for my Want Engines course, as I speak. It's coming this summer, and I think you'll love the strategies I'm putting together for you. They're hot.
Here's a chance for you to help sculpt the course.
Want Engines focuses on how to tap into your clients' desires and generate real, serious want. You know the feeling – it's like when you walk into a store, and you just want to BUY.
But I have a choice to make right now. In the second half of the course, which of these two things should I focus on:
1. Going deeper into creating want through your marketing and giving more examples and ways to build that bond, or
2. Setting up the regular business routines you need for day-to-day marketing and going a little lighter on creating desire.
Would love to hear from you. The pre-signup is here:
ground-glass.com/newsletter_want/