When I was a little kid, I LOVED Razzles. I mean, come on. It starts as a candy and ends as a gum. How do you not like that?
So, when I came across a pack for the first time in I-don't-even-know-how-long at gas station down the street, I couldn't resist. Never mind that fact that it was coated with dust and looked like it hadn't been touched since 1992.
They were Razzles!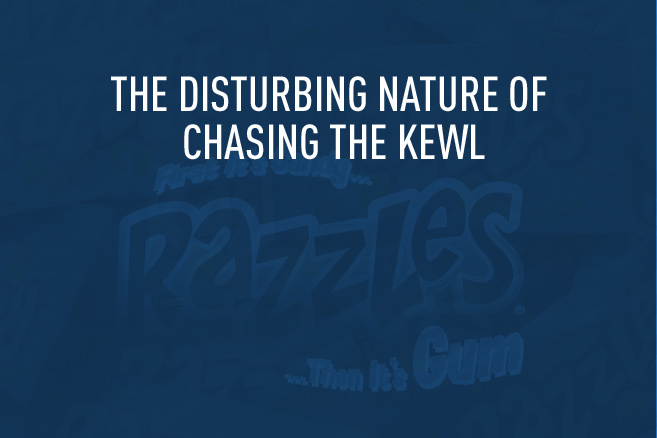 Excitedly, I tore open the pack and popped about five into my mouth at once. You know. Because gluttony.
And as I chewed and chewed, waiting for my childhood memories to wash over me, I realized that Razzles feel an awful lot like sweet chalk that turns into a hard, flavorless wad of chew.
And it occurred to me that maybe…just maybe, Razzles weren't really designed as candy that becomes gum.
What if they're just really crappy gum with very clever positioning?
I can picture the pitch. Yeah. Sure. It's chalky and crumbly and it runs out of flavor fast. But what if we say it's a candy and a gum!?!
Whatever the truth is, what I do know is that is that if you can position sweet chalk, you can position anything.
Not that I'm saying you should sell sweet chalk.
But it's easy to get lost chasing the kids of the kewl, feeling like you're constantly stuck one step behind a moving target that runs on higher octane fuel. Don't fall for it.
You don't need to be listed in some top 100 list. You don't need to show up in Rangefinder. You don't need any of it.
In fact, the surest sign that it's time to run away is the exact moment you see the kewl settle in.
We think it means we should do it too. That the norm is to conform. But the more everyone does something, the less the market needs it.
It's chasing futility.
For the longest time, I wanted to be that person. The cooler than cool guy with the mad skillz and the badass pictures. And the more I tried to become that guy, the more invisible I felt, and the more miserable I became.
I disappeared in a sea of sameness, washed away by people who were more talented and more skilled.
I didn't know what I was doing, how to do it, or where I wanted to go.
Until finally, I said "Fuck it." And I decided that I loved my crappy shots with the crappy look with my consumer-grade M43 cameras and my pop-up flash.
That was my idea of beauty. That was what I would show.
And that's when I finally had to stop fighting for business.
What you need is to find your own edge. To walk to that very limit, and allow yourself to topple forward into your own, personal unknown.
Trust yourself. Believe in your differences. And learn what makes those differences special.
It may feel like you're nothing more than chalky gum. But if you give yourself the room to breathe, the rest of the world will see you as Razzles.
And that's why I'm creating Want Engines, coming this summer. In the course, I'll show you how to use to create desire by using your edge and all sorts of other good stuff.
In the meantime, if you want to get on the update list and get access to the free branding course I'm releasing at the same time, sign up here.
—Spencer Lum