The problem with wedding photography has nothing to do with photography. It has nothing to do with exposure and f-stops and whether this looks like film or that works as a print. It has nothing to do with light and composition or even emotion or feeling on their own. The problem with wedding photography, in fact, is distinctly non-photographic.
The problem is Iceland.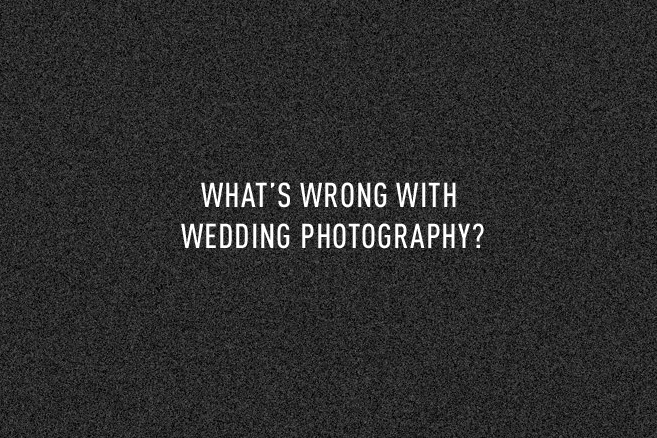 This is an industry where there isn't a week that goes by where the stakes aren't ratcheted up a notch. Where the landscapes don't loom a little more dramatic, where the couples don't get a little smaller, and the compositions grow more impressive. A high stakes game being battled across the globe in locations near and far and so commonly settling in Iceland, as the hills sing with the sound of shutters clicking and couples trekking.
Each year, the light gets prettier, the cliffs become steeper, and the pictures are stunning – more than enough to satiate the wanderlust in every flip-phone toting, card-carrying, hipster heart. Raggedy-yet-graceful couples walking up hills, down hills, staring at oceans, and standing in forests.
But for all that, no matter how stunning and how impressive, the question isn't about how well you take the picture. The prettiness may make it all go down a hell of a lot easier, but it will never be a replacement for what really matters: having something to say.
While it may be the age of unending fetish, no VSCO filter, no stock of Kodachrome, no place, no space – none of it means anything if there isn't a point of view stirring inside the person who clicks the button.
Yes, pictures have improved. But as the haze lifts and the talent grows, what becomes clear is that the plague of the wedding industry isn't its sheer crappiness. We're finally starting to steer clear of that. It's the pervasive sameness that has defined this industry from the start. Where craft is concerned, crappiness and sameness are worlds apart. But insofar as the art, heart, and soul of the medium goes, they remain one and the same.
This is a time of a thousand variations of couples center-framed, space-enclosed, holding hands, and looking somewhere, anywhere, and everywhere. And I'll fess up now. I, too, am guilty.
What's wrong with sameness? It sells. It's sexy. It's hot. Why not?
Because people are more. Couples are more. Because we are more. If you buy the party line – and this is a line I'll buy hook, line, and sinker – that we all have something to say – that we all have something to offer – then sameness is most certainly a problem.
We are defined by how we are different. No one says you're you because the things you do or the beliefs you have are just like everyone else. You are you, because of all the ways you're different. That's how it goes. We are our exceptions, not our conformity.
And we all have something stirring inside of us. Everyone has a way of doing things. But many never put it to use nor pay it heed, instead, chasing the chase, looking for better in all the wrong places.
You see it in the battles of the moment and the talk of the times. There's the white hot fight to see who can produce the truest film emulation. The crusade for printing prints. The unending litany of discussions about the cameras we use. Do we stick to a DSLR or go mirrorless? Do we shoot digital at all? And what format, if we go film? Check out the Leica M Edition 60 if you want to see the ultimate conceit of the now. All digital, no LCD viewfinder. Get the hardness of digital and the limitations of film for $19K. Nice.
This all misses the point.
The question isn't how good a film emulation is. It's why you use it. I've seen many a conversation comparing film stock presets. I've seen all of none telling us why it matters. If you don't have an answer why getting 98% of the way to Portra 400 is better than 96%, then who really cares about the rest? Which isn't to say that it doesn't matter, but that the question of why needs to come first, or else it's the chase for the sake of the chase.
Authenticity is only valuable when you understand it well enough to let go of it. The moment we cling to the authentic for itself is the moment it loses its original purpose.
It's not digital or film. Print or screen. It's what you have to say with them. How you use them. And if the answer is only going to go as far as the mysterious beauty of the grain structure or how a different technology makes you slow down and think, that's not even close to far enough.
Beauty for what? To say what about the world? About your subject? Slowing down and thinking, though great, did all of nothing to make every film photographer anything close to brilliant before digital hit the scene. Most people were just slow and bad.
Thinking about light, composition, and timing is one thing. Thinking about what life, love, and living is for is another. And that is the problem with Iceland.
Not that so many have gone to the ends of the earth and back to find the ultimate shot. That, in and of itself is fine. But that so many people wander through the mist and climb the hills – whether it be in Iceland, California, or across the street – only to bring back something so similar to so much without asking what their own private Iceland was. That we chase the look and not the meaning.
Great photographers find novel ways to show similar subjects. Sameness disparages the complexity and beauty of who we are.
Live life first.
Not through the camera. Not for the camera. But with the camera. Sit on a sidewalk and watch the people pass. See how you feel about them. Not what looks like some shot you've seen before from a hero of the past. But what YOU feel. Put that in your pictures.
Read a book and think about what people are. What is marriage for to you? What is love for to you? How does your choice of framing, composition, filtering, and camera make this opinion – this belief in your heart – indisputably clear? Step out of your role as the photographer and forget about what you're supposed to shoot. Find what you need to shoot.
Be conscious of your possibility.
The world doesn't need you to solve what's already been solved. It's waiting for you to solve what hasn't. It's waiting to hear what you have to say. Don't check yourself in at the door. Don't run from who you've fought to become. Wear it. Show it. And make that lead the way.
Get started with a free course to build your business now. Learn how I used the Foundation Framework to build a six-figure business.